What is Northwestern Preparatory School?
We are the only civilian preparatory school devoted exclusively to the overall development of our candidates' readiness for entrance and success at a service academy. This does not mean merely helping students enter so that they can just scrape by for four years. This does mean a thorough comprehensive skill and maturity development program to equip our candidates with the academic, physical and personal skills necessary for success in the many demanding areas of a service academy experience.

Why no formal military training?
In our ongoing dialogue with the academy admissions officers we are urged to focus on the academic and physical aspects of academy preparation because the academies have their own complete system of military training. They tell us that what they really need is an incoming candidate who is academically strong and physically fit to meet the tremendous challenge of the service academy program.
Therefore we totally concentrate our work with our students to the end that they will be as thoroughly prepared as their and our combined efforts can make them.

Why a Two Part Program?
Our term runs from late August through mid-December for two reasons. First, since the Academies begin offering appointments in early January, it is in the best interest of our candidates to have their admission files complete and ready for Academy Board consideration by this time. Second, we feel that it is a real advantage for our candidates to have academic work in the college environment as a continuation of our program. Therefore, our students return home in December to attend a college of their choice in January. This gives the best of both worlds, Northwestern Prep's exceptionally thorough skill development, plus a semester of pre-planned college level experience. Together, these two phases provide an extremely comprehensive Academy preparation.
Since both of these aspects are extremely important in the overall Academy preparation process, post Northwestern college attendance is mandatory and courses must be taken for grade and credit.
Because of this two part preparatory program, Northwestern Prep offers service academy preparation that is widely recognized as the best available.



The NWPrep Graduates say...

Sitting back and remembering, I have to admit that attending NWP has been the single most profitable decision I have ever made. Because of your school, I finally learned how to study, I finally figured out how to be a team player and developed a can-do and will-do attitude that I've never had before. One other thing, my retention has gone beyond my own expectations because of the vocab tests. That's about it for now, so the next time you hear from me will probably be when I'm cheering so loudly you can hear me on the other end of the country because I got an appointment.
-P.R., Wheaton, IL


The atmosphere you created made being away from home a lot easier...I guess I grew up a lot... The things we learned at NWP went way beyond math, English, and chemistry. Thank you for giving me the opportunity to learn these things.
-R.W., Fullerton, CA

I just wanted to tell you how inspiring and challenging NWP was for me. I learned things about myself and others that I probably would not have gained anywhere else. I have a different attitude about situations now. I feel that I can accomplish anything desirable. A lot of people just say the phrase without really thinking about what it means….I appreciate the things that were taught to me in the time that I spent at NWP. So I would like to thank you for your appreciation and kindness towards me. You never gave up on me. That taught me to never give up on myself, since you didn't. Thanks.
-B.D., Franklin, OH


Brance, Regimental Commander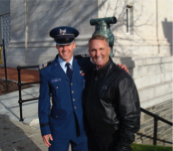 David, Wing Training Officer